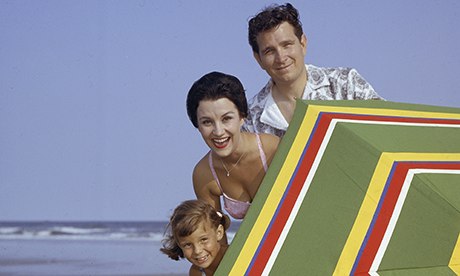 Labour's proposed changes to family allowance in 1969 were designed to lower public spending. Photograph: Lambert/Getty
Cuts in family allowances for the better-off may be made in this year's Budget. Mr Jenkins, the Chancellor, and Mr Crossman, Secretary for Social Services, are discussing detailed proposals which would extend the principle of selectivity – paying welfare benefits only to those who really need them.
If the proposals are adopted, it is likely that those paying higher rates of income tax will lose part or all of their family allowances, which are now given universally at the rate of 18s for a second child and £1 for each subsequent child. This would be done either by not paying the allowances, or by paying them in full and "clawing-back" a proportion by means of tax adjustments.
Mr Douglas Houghton, formerly Minister responsible for coordinating social policy on pensions and health, has also urged that the "claw-back" principle should be extended to the increase in pensions promised later this year. This would be done in exactly the same way – by reducing the tax allowances of pensioners paying the standard rate of tax.
The breakthrough into "civilised selectivity" – civilised, it is claimed, because it avoids a means test – came in last year's Budget when Mr Jenkins announced that the 10s increase in family allowances would be recouped from richer families by reducing their child tax allowances.
This alone saved £60 millions but the scope of potential savings by selectivity is much greater, for the total cost of child tax allowances of £675 millions is more than twice that of family allowances.
No Chancellor, however, is likely to abolish child tax allowances completely without making corresponding adjustments, because otherwise the whole burden would be thrown on to tax-paying families while those without children would escape scot-free.
At the time of the Budget, Mr Jenkins hinted that he hoped to introduce "full selectivity for family allowances." This sounds attractive but its difficulty is that it would probably need a fundamental reform of the tax structure. At its extreme it would involve the abolition of all tax and family allowances, which would be replaced by a "negative income tax" system in which welfare benefits were paid according to earnings.
The "claw-back" method, recouping benefits from taxpayers, is administratively much simpler but it is obviously clumsy and involves duplication of both payment and collection.